VIDEO
Swim with Bottlenose Dolphin in Cancun with Dolphin Discovery
Dolphin Palace
An exclusive dolphin habitat in the ocean in Cancun. Entirely with dolphins first generation! Now you can meet our dolphins and have an awesome day performing some exciting activities with them. Dolphin Palace is a unique resort, now the new home of our dolphins over large white beaches alongside the Caribbean Sea surrounded by incredible gardens with Palm trees, butterflies and tropical flowers. There's no other like this luxury hotel with perfect scenery where you can live a life changing experience. Here, you get the golden opportunity to observe bottlenose dolphins in their natural habitat, and live an interactive experience with them. If you love dolphins a wonderful adventure is waiting for you to swim and play up close to these awesome marine mammals.
After this great experience you will be able to meet and interact also with our friendly manatees. There aren't many places in the world where you can live anything like this but here you can swim with them. The program includes learning about their diet while you feed them and stroke them. swimming with dolphins is a must-do for tourist willing to experience bonding with nature and with these amazing marine animals. In adition of having a thrilling adventure with our friendly and playful dolphins you may want to know that all of them were born within our successful and worldwide recognized breeding program. Our main goal at Dolphin Palace is you having the Experience of a Lifetime!.
Book right away and live the best adventure ever!
Dolphin Palace Activities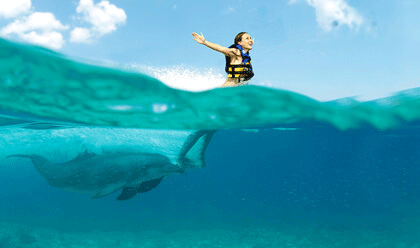 $179 USD
$0 USD