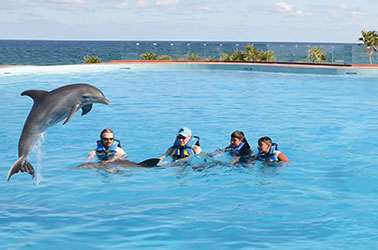 Dolphin Akumal Opening!
We had officially inaugurated our dolphinarium number 14: Dolphin Discovery Tulum-Akumal; accompany by friends, government authorities, commercial partners, local Government and Municipal authorities. and the media. Roberto Borge, Quintana Roo State governor witnessed the ribbon cutting ceremony.
With Dolphin Tulum-Akumal opening, Dolphin Discovery reaches 14 successful locations, 4 of them run Miricle program, which means that their dolphins are all born under human care, following and mastering strict environmental guidelines, like Profepa establishes at National level, AMMPA and IMATA at International level.
The dolphinarium has an aquatic area of 1,200 square meters with cutting edge Technology supporting live system for dolphins with 16 high efficiency turbines and ozonator gear that stops the proliferation of microorganisms in the water that comes directly form the ocean, and it is inside of the beautiful Grand Sirenis Resort & Spa Riviera Maya, portraying one of the most wonderful and privileged views.
July the 15th, 2014