Remember that the use of a mask is mandatory at the time of check-in.
For your safety, the towel service is not available at this time, we highly recommend bringing your own towel.
Included for all programs
Wi-Fi
Showers

Lifejackets

Lunch
Available with Extra Cost
* Photo Package.
Boutique
Restaurant
Lockers
*Add-on available in your shopcart.
Dolphin Cove Montego Bay Activities
Get 25% Off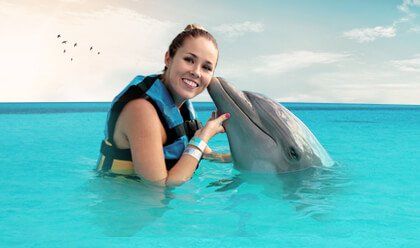 $89,25 USD
Get 25% Off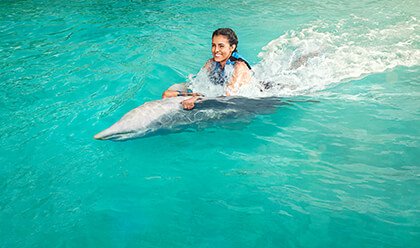 $111,75 USD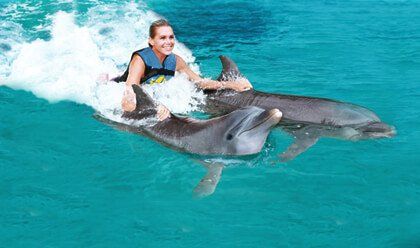 $141,75 USD
Dolphin Cove Montego Bay
Come closer to Jamaica's nature!
Montego Bay, the second largest city of Jamaica is a must-see tourist destination if you are planning to visit Jamaica. There are tons of different activities suitable for all the family including shopping, aquatic activities, sports, cultural sites and sightseeing tours.
Surrounded by beautiful beaches with white sand, turquoise waters, amazing waterfalls, and refreshing rivers will give you the perfect landscape for a memorable vacation. Dolphin Cove Montego Bay is a magnificent location situated within twenty-three acres of ocean view where all their visitors will have the opportunity to spend time with the dolphins while they immerse in their marine world, enjoying the thrill and love of these amazing and lovely marine mammals.
It's the excellent opportunity to become a dolphin's best buddy while you enjoy their company in any of our swimming with dolphins program. Learn more about these wonderful creatures with the help of our marine mammal specialists that will gladly teach you about the human care they receive, like their nutritional and nursing program and also some useful tips to help take care of our environment.
Good news! Dolphin Cove's fun doesn't end here while visiting the park you'll also have the incredible opportunity to upgrade your marine experience. Take your vacation to a whole new level of adventure and get the chance to swim with dolphins, one of the most amazing sea animals right in their natural habitat.
When you visit Dolphin Cove Montego Bay you'll get a chance to make one of your dreams come true with any of our swimming programs, this is the ideal opportunity to cross an item off your bucket list.
Entrance is included with all dolphin and shark interactive programs.
Get amazed by the Caribbean's experts in Adventure!
IMPORTANT: Before attending any of our dolphin swim experiences, you need to answer a short form. The access link to this document will appear attached to your confirmation letter. To avoid long lines and speed up the check-in process, be sure to answer our questionnaire digitally days before your visit date. Let's keep a healthy distance!