Swim with Dolphins in Grand Cayman
Remember that the use of a mask is mandatory at the time of check-in.
For your safety, the towel service is not available at this time, we highly recommend bringing your own towel.
Get the best prices to Swim with Dolphins in Dolphin Cayman
Get 20% Off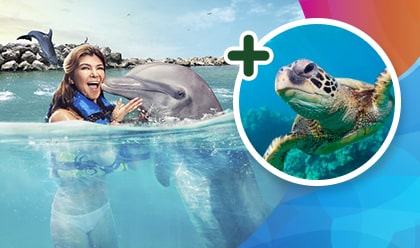 $103.2 USD
Get 20% Off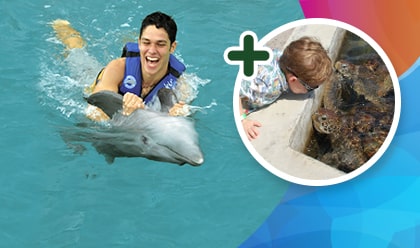 $127.2 USD
Get 20% Off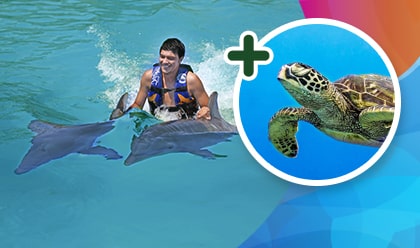 $159.2 USD
One of the Caribbeans most popular Cruise Ship Destination!
Formed by three islands, the Cayman Islands is a British overseas territory in the Caribbean Sea. Grand Cayman, being the biggest island of the three is perfect for spending your vacation with your family and friends, surrounded by white sandy beaches and the turquoise water of the Caribbean this island has the perfect landscape to relax and enjoy the vacation of your dreams.
As one of the top tourist beach destinations, Grand Cayman offers a wide variety of activities to do, but undeniably swimming with dolphins is one of the favorites among the visitors of the island. Dolphin Discovery Grand Cayman makes this dream come true with their swimming with dolphins programs that are a once in a lifetime experience where youíll interact with our lovely dolphins. Participate in different activities with the marine mammals like adorable kisses, unbelievable hugs, fast belly rides and the coolest foot push ever. (Activity depends on the program you choose).
During your swimming program the Dolphin Discovery Grand Experience continues with our coolest marine mammal specialists teaching you and your group really interesting info about dolphins and other marine species and how we take care of them by personalized nutritional, reproduction and nursing programs we give to each and every dolphin at our park, as well as some very important tips of environmental care so we can have a better and greener world.
So if you also have the dream of swimming with dolphins and youíre planning your next vacation with your friends and family donít doubt it anymore and visit us at Dolphin Discovery Grand Cayman facilities, and let us be part of the one of the most memorable vacation ever!
Place your reservation with us and have the time of your life!
IMPORTANT: Before attending any of our dolphin swim experiences, you need to answer a short form. The access link to this document will appear attached to your confirmation letter. To avoid long lines and speed up the check-in process, be sure to answer our questionnaire digitally days before your visit date. Let's keep a healthy distance!