VIDEO
Swim with Dolphins in Costa Maya
Remember that the use of a mask is mandatory at the time of check-in.
For your safety, the towel service is not available at this time, we highly recommend bringing your own towel.
Get the best prices to Swim with Dolphins in Costa Maya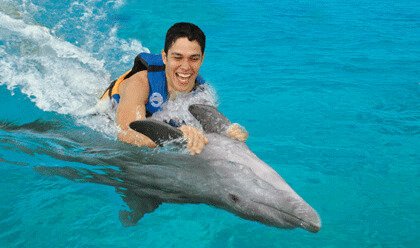 $109 USD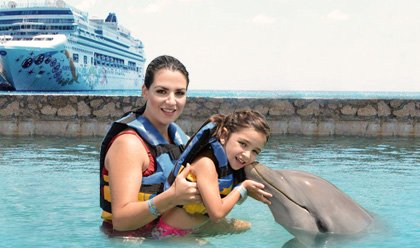 $79 USD
A wonderful location!
Right on the shore of the wonderful Mahahual, you can find Dolphin Discovery-Costa Maya, a great place to spend your next vacation. This Mayan region is also home to the fantastic Xcalak. Our dolphinarium is located on a breathtaking conservation area, surrounded by crystalline turquoise sea water and white sandy beaches. Mahahual is a picturesque town just by the Caribbean Sea. It is only about two hours away from Chetumal and four hours from Cancun.
Costa Maya also called the "the Hidden Jewel of the Caribbean" offers you thousands of acres of almost uncharted beaches, as well as vast tropical flora and fauna. This is the perfect place to spend a day full of joy and fun with your loved ones. There are plenty of activities and tours from which you can choose from. Among these activities, you cannot miss the opportunity to have the best experience with dolphins in this idyllic place! Be sure to also visit the mystical Mayan archeological sites, where you can learn interesting facts about this civilization and how their discoveries and culture still influence our daily lives.
As a part of the Caribbean Sea, Costa Maya homes one of the most well-preserved marine ecosystems. You have the opportunity to enjoy the virgin white beaches as well as the turquoise and crystal clear waters. At sea, divers will be able to witness more than sixty types of coral reefs and more than five hundred different marine animals.
When you arrive at Costa Maya by cruise, you'll be able to see our facilities just some steps away from the pier on your left side. In their natural Caribbean habitat, our beloved dolphins are ready to share with you an amazing experience, which will surely be one of the best in your life!
Don't let this amazing experience end there! Once you have finished swimming with these lovely creatures, enjoy the rest of your day downtown doing some shopping and trying some local dishes.
Come now and visit Dolphin Discovery-Costa Maya to have a fantastic day!
IMPORTANT: Before attending any of our dolphin swim experiences, you need to answer a short form. The access link to this document will appear attached to your confirmation letter. To avoid long lines and speed up the check-in process, be sure to answer our questionnaire digitally days before your visit date. Let's keep a healthy distance!