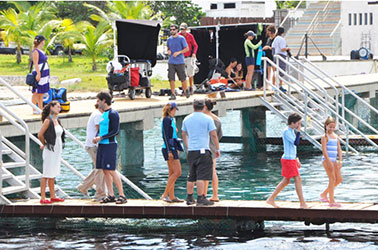 The filming "Angel of the sea" came to an end.
The shooting of the film "Angel of the Sea", whoís cast consists of Sara Maldonado, Mark Tacher, Diego VelŠzquez and Alberto Agnesi, came to an end after 23 days of recording and taking as set scenarios of the State of Quintana Roo.
Thanks to its wide experience in training, excellent care of their marine animals and beautiful facilities, Dolphin Discovery made its first appearance in the medium of cinematography to be chosen as the main sponsor of this film. Angel of the Sea, showing the beauties of Quintana Roo, mainly of Cozumel and Cancun, also chose the Dolphinarium of Dolphin Discovery Cozumel as a backdrop to this touching story.
Angel of the sea speaks of friendship that arises between a child, "Santi" who loses his parents in a car accident, and a dolphin baby called "Angel" which is separated from his mother being captured by mistake. The film, whose release will be in March 2013, is a Mexican project that the entire family will enjoy and that sends a positive message of help between human beings and their interaction with nature.
October 15th, 2012