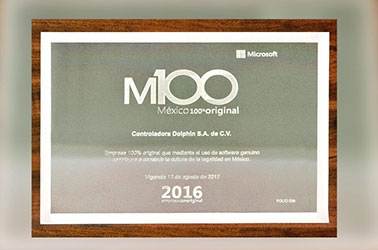 Dolphin Discovery Group Recognized with the distinction M100
GRUPO DOLPHIN DISCOVERY, RECIBE EL CERTIFICADO "M100 MICROSOFT, M�XICO 100% ORIGINAL"
Cancun, Quintana Roo, October 10th 2016 � Dolphin Discovery Group was recognized with the distinction M100 from Microsoft M�xico which certifies the use of a 100% genuine software; thus helping to build a culture of legality in Mexico.
The aim is to recognize those companies that work under a zero tolerance philosophy for the misuse of information technologies. This is a way to encourages among employees, customers, suppliers and society to say NO to piracy in Mexico.
To obtain the certification, a thorough audit of the software systems used by the organization must take place in order to validate the correct and complete licensing of the company�s software. The certification is valid for a period of 12 months.
With this certification, it can be proved that Dolphin Discovery Group is a company that invests in cutting edge technological development, high quality products aligned to the law; updated business technology, provides technical support and warranty; prevents Malware and strengthens the security levels of the company.
�Grupo Dolphin Discovery lives a culture of legality through strict enforcement of the laws. In this particular case: the Industrial Property Act, proof of that is the distinction M100 from Microsoft, which we recently received. This recognition reinforces the credibility of our customers, partners and investors. Likewise, it supports our high quality standards.� As mentioned by Concepcion Esteban, Legal Director of Grupo Dolphin Discovery.
The use of non-genuine software enhances the risk of attack by malware, identity theft, credit card theft and disclosure of personal information.
All about Dolphin Discovery: For over 21 years, Dolphin Discovery has contributed to the study and conservation of marine mammals, creating bonds of love and respect through the best interaction experience in unique habitats around the world. Millions of people have lived the Experience of a Lifetime in the 24 parks and dolphinariums that currently make up the world of Dolphin Discovery, located in Mexico, Anguilla, Tortola, Grand Cayman, St. Kitts, Dominican Republic, United States, Italy and Jamaica, where nearly 250 mammals live under the care of their own veterinarians and trainers.
For more information, please visit the website www.dolphindiscovery.org
All about Microsoft M�xico: Microsoft has been in Mexico for 30 years, it has always had a strong commitment with the country, its development and its people. One of the most important basis of this company is the absolute legality and protection of intellectual property since it recognizes the importance of piracy detection in Mexico. Therefore, the distinction M100 was created to recognize Mexican companies operating with Microsoft software 100% legal.
For more information visit: www.microsoft.com
October 10th, 2016