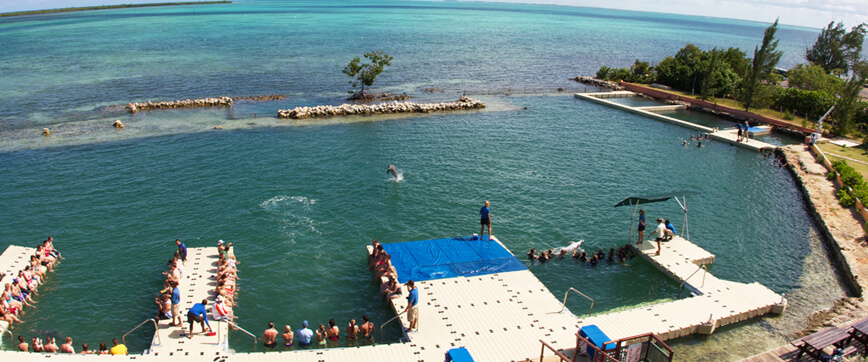 Dolphin Discovery acquires Dolphin Cove Cayman
Dolphin Discovery acquires Dolphin Cove Cayman
As part of our expansion plans, Dolphin Discovery Group completes the acquirement of Dolphin Cove Cayman, a beautiful dolphinarium that began operations in 2008 and is visited by locals and tourist, wishing to live the unique experience of swimming with dolphins. Some of the attractions that Dolphin Cove Cayman offers are "Nature Trail", a tour where guests can see and learn about birds like: macaws, cockatoos and parakeets, as well as a visit to the worldwide famous "Stingray City," available in a boat trip departing from the dock of the dolphinarium.
"We are really proud to add up to our parks and dolphinariums Dolphin Cove Cayman, which will allow us consolidate our service in one of the most beautiful and visited places in the Caribbean: Cayman Islands", said Eduardo Albor, Dolphin Discovery President and CEO.
Meanwhile Stafford Burrowes, Dolphin Cove Cayman Founder commented: "Dolphin Cove started operations in Ocho Rios Jamaica in 2001, and we started in Cayman in 2008 because we knew that this destination had great potential in the tourism sector and that the dolphinarium would be a key attraction for their visitors. Last month, we sold a majority stake of Dolphin Cove Jamaica to Dolphin Discovery and we then took the decision to sell, Dolphin Cove Cayman, to Dolphin Discovery Cayman. This acquisition will allow consolidation of this dolphinarium as part of the leading company in swimming with dolphins programs worldwide."
Dolphin Cove Cayman now becomes the second dolphinarium at Grand Cayman Island and the 23rd owned by Dolphin Discovery Group.
December 7th, 2015