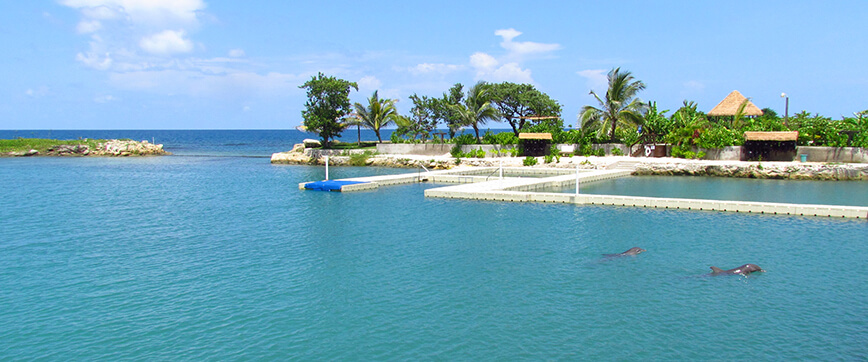 Dolphin Discovery acquires four Marine Parks in Jamaica.
Dolphin Cove opened in 2001 in Ocho Rios Bay, in front of the world's best known park Dunn's River Falls. Dolphin Cove Ocho Rios expands over 3 acres and is one of the most important attractions on the Island. The park offers different activities such as interactive swim with dolphins, visiting Dunn's River Falls and interacting with sharks and rays, among others.
Other locations from Dolphin Cove are Dolphin Cove Negril, Dolphin Cove Moon Palace; this one, recently opened inside the Moon Palace Jamaica Grande Hotel, from the Palace Resorts Mexican chain.
Eduardo Albor, Dolphin Discovery Group CEO said: "Dolphin Cove is without a doubt, one of the main attractions in Ocho Rios and Negril. As well as Dolphin Discovery, they care about offering an excellent service for their guests, but above all, care and commitment with the species in their care. Therefore, acquiring a company with the same values and a success background generates confidence to bet on this wonderful destination and continue investing in Jamaica."
Mr. Stafford Burrowes, Founder, actual Partner and Dolphin Cove's Chairman explain: "I know and am very familiar with Dolphin Discovery operations in Mexico and the Caribbean, as well as its recent acquisitions in USA and Europe. I am excited about Dolphin Cove as part of a company like Dolphin Discovery, with such dynamism and professionalism. I am sure Dolphin Cove will continue its growth in Jamaica and other Caribbean destinations along with Dolphin Discovery".
Dolphin Cove is a public company listed on the Stock Market of Jamaica; it was announced that Dolphin Discovery could acquire up to 80% of its shares for an amount of approximately $ 42,000,000 USD, remaining 20% held by institutional investors and public.
Dolphin Discovery, a Mexican company that started operations 21 years ago in Cancun, has become the world leader in interactive swim with dolphins with 23 parks in 9 countries and 2 continents.
November 20th, 2015