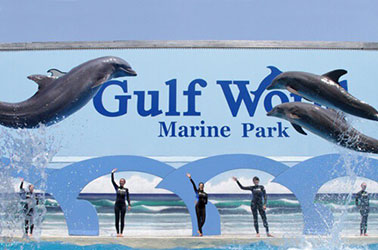 Gulf World Marine Park now part of Dolphin Discovery Group
It is with great joy we announce that since October 9th 2015, Gulf World Marine Park, located in Panama City Beach, Florida is now part of Dolphin Discovery Group, the leading swim with dolphins company in the world.
Gulf World, a marine life park founded in 1969, co-owned and operated by CEO Ron Hardy, is one of the most successful and traditional family attractions in north Florida, with more than 150,000 visitors in the last year.
"After more than 30 years of running this amazing park, we are very happy to see Gulf World now become part of the Dolphin Discovery family. The animal care and husbandry programs of Dolphin have shown to be one of the most successful and responsible in the marine life industry and we feel very confident and proud that all our more than 30 marine mammals and our more than 70 birds and reptiles at Gulf World are now under the care of Dolphin Discovery", said Ron Hardy, who remains as Chairman of the Board of Gulf World.
Once owner of a family park in Oahu, Hawaii, Dolphin Discovery returns to the USA with Gulf World in Florida and has announced more acquisitions soon to happen, as part of its expansion plans.
"We are very excited to be back in the USA with the purchase of Gulf World, one of the most amazing marine life parks in North America, and we have plans to improve the facility and the swim with the dolphin activities offered at Gulf World, to give all guests visiting the park the opportunity to live and learn from the Dolphin Discovery experience, like the almost 6,000,000 guests who have lived the experience in our parks in Mexico and the Caribbean", said Eduardo Albor, CEO of Dolphin Discovery Group.
Dolphin Discovery, the largest dolphin company in the world, now with 18 parks in 7 countries, including USA and Mexico and with more than 200 marine mammals under its care, receives more than a million visitors a year and will now be proud to say "Bienvenidos" to all the guests at Gulf World in Panama City, Florida.
October the 13th, 2015