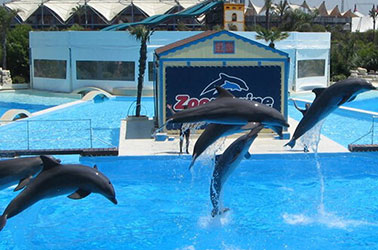 Dolphin Discovery acquires Zoomarine Park in Rome, Italy.
Dolphin Discovery, the company's largest dolphins in the world, arrives in Europe with the acquisition of Zoomarine Rome, one of the most visited amusement parks in Italy. With this acquisition, Dolphin Discovery, a Mexican company founded in Cancun, Mexico in 1994, began operations in Europe as part of its expansion plan and has become the largest park operator in Mexico, Latin America and one of the most important in the world.
Water World, the owner and operator of Zoomarine Parks in Algarve, Portugal and Rome, Italy company, was founded by Don Pedro Lavia in Portugal in 1991, where the first swim with dolphins park opened in Europe. In an area of 40 hectares, Zoomarine Roma opened in 2005 and has become the favorite theme park of Italian families, for their unique component of mechanical and water attractions as well as educational exhibits featuring dolphin, sea lions, penguins and exotic birds of prey and regional shows and dexterity. Considered the first educational amusement park in central and southern Italy, Rome Zoomarine receives 500,000 visitors a year and is the only one in Italy which is part of the Alliance of Marine Mammal Parks and Aquariums (AMMPA) since its inception, certifying that, like Dolphin Discovery, it meets the highest standards of aquariums and dolphinariums in the world.
"Dolphin Discovery is a company that is recognized for its expertise and commitment to the environment, and for having the most strict programs for the care of the marine mammals, so we are very proud that Zoomarine Roma is now part of the the world's largest dolphin family" said Jose Ignacio Cobo, CEO of Waterworld, the company selling the park. "We are confident that Zoomarine Rome will be an important addition to Dolphin Discovery and our experience in the operation and logistics of Parks and mass entertainment will be a key contribution to its expansion in Europe," added Mr. Cobo.
Meanwhile, Eduardo Albor, CEO and Chairman of Dolphin Discovery commented: "A few weeks after arriving in the United States following the acquisition of Gulf World Park in Panama City Beach, Florida, Dolphin Discovery continues to expand to continue offering unique entertainment experiences in its 19 parks and dolphinariums, now in 8 countries and 2 continents." Adding that, "We are very proud to reach Europe with the acquisition of Zoomarine Rome, one of the most modern and successful park attractions of Europe, we are confident this will be just our first acquisition in this market of great opportunity."
Proudly born in Mexico, Dolphin Discovery sets precedents in the entertainment and education industry with a range of experiences that educate and entertain families and people of all ages, now in its 19 parks and dolphinariums in 8 countries of America and Europe.
November 2nd, 2015