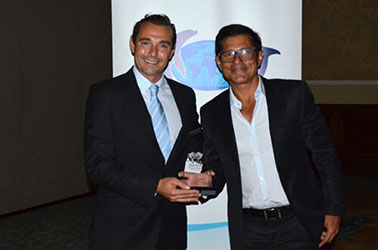 Dolphin Discovery receives multiple awards from IMATA
Well attended, it was held the 43rd Annual Conference of the International Association of Marine Mammal Trainers (IMATA), where Dolphin Discovery, the largest family of interactive programs with dolphins in the world, sent 6 experts to represent us. The event was held in Nassau Bahamas from September 27 to October 3 and brought together about 400 people including businessmen, veterinarians, biologists and specialists in the field.
Dolphin Discovery's participation took place to present our breeding program "Miracle" and innovative techniques in the care of newborn calves; and a poster with information about the youngest baby manatee named Claudia, who was born in the facilities of Puerto Aventuras dolphinarium , where she currently resides.
It is thanks to this knowledge that Dolphin Discovery was awarded the First Place Award for Husbandry Training. For a case where the department specialists and veterinarians from Puerto Aventuras invested more than 8,000 hours of observation and special care for raising a brood of 76 who have successfully been born at Dolphin Discovery within the last 13 years.
There were given 2 certifications to Playa del Carmen and Vallarta-Nayarit dolphinariums, making a total of 12 locations certified by this institution, ensuring the highest standards in animal training world; Dolphin Discovery becomes the institution that has the most IMATA accreditations in the world.
In a distinctive aside, the work of Alex Mata, Marine Mammal Specialist Manager at Dolphin Discovery with Manuel Garduño was recognized as Secretary and Board Member IMATA respectively, for the last three years of service to this international organization comprising 1700 individuals worldwide.
As an international congress, Dolphin Discovery stands out as the only Mexican company with the most awards from IMATA: in the last 13 consecutive years we have participated, made 39 presentations and 18 awards received on issues such as training, animal care, education, conservation, among others.
The 47th edition of the International Conference 2017 will be held in Dolphin Discovery Riviera Maya, where we will have the opportunity to serve as host to the headquarters.
October the 29th, 2015