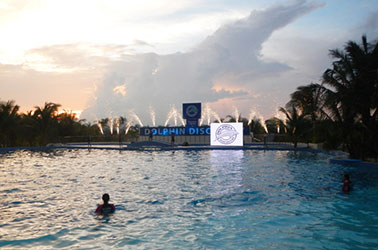 Dolphin Playa del Carmen Opening!
The new dolphinarium "Dolphin Playa del Carmen" already open for the tourists, the 13th dolphinarium of Dolphin Discovery and considered the largest on a beach in America, with more than half acre of territorial extension, 2,000 m≤ of water surface and is equipped with an air refresher device of water with the latest technology, in addition, it offers its visitors a snack bar with a wide variety of foods as well as a showers and lockers area.
The new location will be the home of the dolphins: Morelos, John, Pakal, Merlin, Colon and Hidalgo that moved to Dolphin Playa del Carmen, their wonderful new home located in Playa Maroma, Riviera Maya. These six male dolphins, whose place of birth have been the dolphinariums of Isla Mujeres, Cozumel and Puerto Aventuras, are ready to coexist with our guests officially from June 17th, allowing with this the creation of 40 direct jobs and 25 indirect.
The careful transfer of their former homes to this heavenly tourist spot was in charge of the team of veterinarians and trainers who are experts in the field, resulting in the suitable environment for its correct adaptation and development.
The recent arrival of these 6 amazing creatures is undoubtedly an important moment for Dolphin Discovery, as it is its fourth location Miracleģ, which is exclusively home to dolphins born of its successful reproduction under human care program.
June 14th, 2013