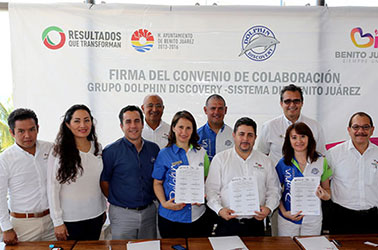 Dolphin Discovery Group signed collaboration agreement
With the aim of strengthening existing social programs, promote environmental care and carry out actions to family integration and development of children and adolescents in the city, the DIF Benito Juarez system signed a collaboration agreement for the population access to guided tours and talks on environmental education in the Group Dolphin Discovery company.
The CEO of the institution, Ernesto Yunez Schütz, recalled that thanks to the confidence of socially responsible companies and the coordination of the three branches of government, there are more and better assistance to vulnerable groups, sports infrastructure and quality public works, among others visible results for all citizens.
In this context, he thanked the management of corporate and park Garrafon, facilities for the signing of an agreement which joins and support the work of the current administration headed by the municipal president Paul Carrillo de Caceres, since all beneficiaries in the DIF as are patients Integral Municipal Rehabilitation Center (CRIM), minors who are cared for in the 12 Child Care Centers, like infants attending the Directorate of Protection and Development of Children (PRODIF), they will receive complimentary talks on environmental education, care and waste management, and guided interaction with marine mammals of the delphinarium.
The event was attended by Dolphin Discovery Group, Director of Administration and Finance, Catalina Rodriguez Rosado; corporate manager of Human Value, Guadalupe Jimenez Topete; dolphinarium manager Isla Mujeres, Juan Carlos Guerrero; The park Garrafon manager, Vicente Guerrero; delegations coordinator Municipal DIF, Luis Bello Rendon; as coordinators CRIM, Karina Verdugo Leyva; Centers Child Care DIF, Elvia Garduza Santos; House Temporary Assistance (CAT), Ivan Ramirez Mayen and Prodif director, Carlos Hugo Martinez Arroyo.
March the 6th, 2015