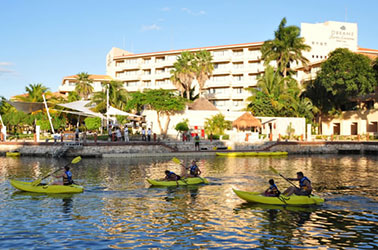 Puerto Aventuras debuts new Dolphinarium, Dolphin Dreams by Dolphin Discovery, the largest in the Riviera Maya.
The Dreams Puerto Aventuras hotel chain AMResorts will host the new Dolphinarium of the #1 swim with dolphins company in the world. Dolphin Discovery opens the Dolphinarium in a luxury tourist complex in the Riviera Maya, in addition to its privileged location; the Dolphinarium is the first to host 8 marine species, all born under human care within the successful reproduction Miracle program.
The opening of Dolphin Dreams is a great pride for Dolphin Discovery Group, due to the fact that it will be home to 6 dolphins and two manatees of second generation. This achievement has been given thanks to the continuous efforts of awareness of the importance of the care of local endangered species as it is the case with the manatees. In this location it will have two litters of manatee, called Robertito and Edgarin, who will give an educational swim as part of Royal Swim and Swim Adventure programs.
The new location was featured with an investment of 1.5 million dollars, which will generate 25 direct jobs and indirect 40. The care of dolphins and manatees will be in charge of 8 coaches and 2 veterinarians. With an area of 6,000 m2 of aquatic area and 80 linear meters in platforms position it as the largest dolphinarium in the Riviera Maya; In addition to offering a unique experience by creating a new activity in kayaks which allows a totally different interaction with the dolphins.
In addition to the 3 different swims (Royal Swim, Swim Adventure and Encounter) Dolphin Discovery along with AMResorts, both socially responsible companies, seek to foster care towards these species and pledging to devote resources to neighboring unprotected and vulnerable communities in the region as programs with children with disabilities. It is no surprise because Dolphin Discovery is rewarded each year with international awards such as IMMATA and AMPPA, among others.
Both companies are pleased to announce the next opening on November 1st of Dolphin Dreams with special promotions to celebrate the opening. The location seeks to become one of the favorite destinations for local and international tourists.
October 30th, 2012