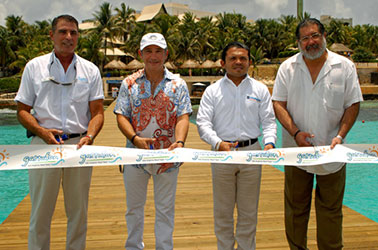 New pier at Garraf´┐Żn Park in Isla Mujeres.
The project which began in March and ended on June 29th, reaffirmed Garrafon as the most important tourist park of Isla Mujeres, which also generates an important source of employment for the Islanders. The new pier has an area of 118 meters long and 3.60 wide and will allow visitors to go directly to their facilities thus providing better service.
For the construction of this pier it was invested 10 million pesos which included environmental impact studies before, during and after construction; likewise the best materials were used to allow the light to the reef and prevent the destruction of the same. In addition to this event, the inauguration took advantage to present the new VIP area of the Dolphinarium in Isla Mujeres which has a premium buffet area and bar, a pool, sun beds, showers, lockers and screens with screening of sporting and cultural events, among others.
During the tour and the opening of the pier slat cutting were present; the municipal President of Isla Mujeres, Hugo Iv´┐Żn S´┐Żnchez Montalvo; the general director of the Dolphin Discovery group, Eduardo Albor Villanueva; the Executive President of the Mexican Association of Travel Agents (Prosthsis), Sergio Gonz´┐Żlez Rubiera; and the director of operations of Dolphin Discovery Group, Lorenzo C´┐Żmara, as well as senior executives of travel agencies of Cancun and the Riviera Maya.
With these enhancements, Dolphin Discovery, represents an important strengthening of Isla Mujeres by increasing the development of commercial activity and the quality of tourists coming to the island.
October 31st, 2012