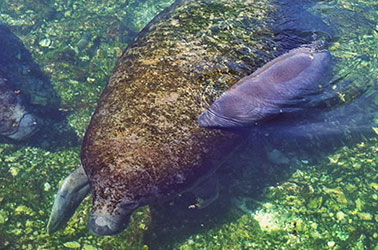 Newborn Manatee at Dolphin Discovery Riviera Maya.
A baby manatee was born, a new member of the manatee's family at Riviera Maya-Puerto Aventuras. Juliette, the mother has given birth to a healthy, perfect manatee who is now breastfeeding.
The baby manatees use to weight 44 pounds and measure less than 3 feet when they born, but they grow very fast. It is too soon to know if it is a male or a female, though we are pretty sure Juliette will take care of him very well like she did before with her previous babies: Yoltzin was born in August 2005 and it was the second one born under human care in Mexico, nowadays it is living at Dreams location, over there in Puerto Aventuras.
Quijote was her second baby, born in 2008, it is living in Cozumel with his brother Edgarin, who was born two years later in September 2010 being Juliette's third baby. In November 2012 at Puerto Aventuras, baby manatee Lorencillo was born and he lives right there were the newborn has just yet arrived and they will be best siblings and best friends certainly.
The reproductive program of this specie is a matter of much importance for Dolphin Discovery Group because this type of marine mammals are under threat of extinction in the region and all over Mexico.
August the 15th, 2014