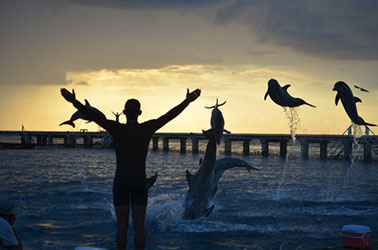 Dolphin Discovery, passion and growth
Becoming the worldīs #1 company for swimming with dolphins has not been simple. Constant perseverance, dedicated teamwork, and passionate caring resulted in an amazing 2012 for Dolphin Discovery. 2012 was for certain a very important year including many special events, new dolphinarium openings, and meaningful exchanges between our precious dolphins, their animal care team, and our visitors. Dolphin Discoveryīs 12 locations include expansive destinations offering many activities for visitors as well as sites dedicated exclusively to our dolphins.
Dolphin Discovery has become the leader in Dolphin-themed parks with 122 dolphins and more than 5,000,000 guests enjoying the unique experience of swimming with dolphins. Dolphin Discovery maintains global partnerships with respected organizations including the International Marine Animal Trainersī Association (IMATA) and AMMPA (Alliance of Marine Mammals Parks and Aquariums). These partners, and more like them, are dedicated to animal rights as well as high quality standards in education and entertainment. In 2012, IMATA president Ms. Shelly Wood, who also serves on the Dolphin Discovery Board of Directors, recognized the company for excellent teamwork and persistence.
Our commitment to dolphins and our Human Care initiative called Miracle has resulted in the birth of 69 marine mammals since 2002. Like other leading marine mammal facilities including Sea World and the Georgia Aquarium, Dolphin Discovery takes pride in our care for animals. This type of success has resulted in the expansion of Dolphin Discovery to include or state-of-the-art location at Isla Mujeres, which is the largest marine life attraction in the world.
Simple stated, the many endeavors that took place in 2012 by more than 1,000 dedicated associates is the same effort that will continue to share our natural splendor with guests in 2013.
After 18 years in business, Dolphin Discovery is moving from adolescence into adulthood with a desire to accomplish many dreams. Together with our animals, trainers and guests, we will continue to place our 12 locations as the first choice in the world for swimming with dolphins.
February 07th, 2013