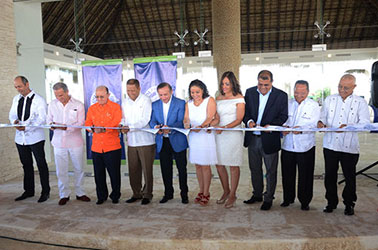 Dolphin Discovery is now in the Dominican Republic: Punta Cana
Dolphin Punta Cana Opening!
Dolphin Discovery, Company #1 of dolphins in the world, inaugurated today Dolphin Discovery Punta Cana, Dolphinarium number 16, in the presence of partners and government tourism authorities. Eduardo Albor, CEO of Grupo Dolphin Discovery and Mr. Luis Moreno Francis, Downtown Punta Cana investor, cut the ribbon of the new facilities with the new authorities and in company of family and friends.
In the event were presented the 8 dolphins that make up the family of Dolphin Discovery Punta Cana: Nefti, Nimbe, Julieta, Maggie, Goya, Mozart, Romeo, and Kepler, 4 females and 4 males who will interact with visitors in the 3 lakes that has a total water surface of 2.500 meters mt2 and 6 feet deep, for a total of 14 million liters of water, which makes it the biggest artificial dolphins lagoon in the Caribbean, exceeding, in size, 5 times the space required by international standards.
With an investment of $15 million dollars and the most advanced technology, Dolphin Discovery Punta Cana will count at the end of the project with various facilities including boutique, snack bar, restaurant, swimming pools, jacuzzis, cabins, playground, pool bar, VIP areas and many other areas of services and amenities, making it the most modern dolphinarium in the Caribbean and one of the most luxurious and comfortable in the world .
Construction of the first phase of Dolphin Downtown Punta Cana was performed in a record time of 100 days, creating jobs for 400 people and since its opening, in regular operation, directly employ 50 employees and about 100 at the end.
The decision to invite Dolphin Discovery to be part of the building project and entertainment Downtown Punta Cana, is because companies with their experience and international prestige add value to the destination and Downtown", affirmed Francis Luis Moreno, President of the company developer and promoter of Downtown Punta Cana Project where the dolphinarium Dolphin Discovery is.
This dolphinarium, which expects to receive about 100,000 visitors in its first year, is seeking to become a benchmark for positive influence in the community, organizing educational tours to schools and supporting vulnerable groups in coordination with the relevant authorities, so that thus contributing to economic growth in the area, but also to community development", said Eduardo Albor, who along with staff from Dolphin Discovery and 8 new Dominican dolphins, received and attended authorities , friends and customers in this important event.
December 15th, 2014