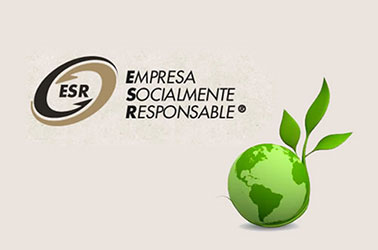 Dolphin Discovery receives the distinction of Socially Responsible Company (ESR) for the seventh consecutive year.
The distinctive ESR is an award given annually in Mexico by the Mexican Center for Philanthropy (CEMEFI) and Aliarse. Dolphin Discovery is proud to be a Socially Responsible Company (ESR); and it is always latent commitment that they have with people, the environment and communities.
The social responsibility approach of Dolphin Discovery is based on four guiding principles: commitment and respect for the environment, preservation and care of marine mammals, implementation of various programs of environmental education and links with the communities of influence. Besides that, it is ruled under certain schemes like participatory, supportive, cooperative and respectful leadership for human rights and the human dignity. And as a fundamental part of the work environment, Dolphin Discovery promotes favorable labour conditions for a good quality life and a human and professional development of all its community (employees, family members, shareholders and suppliers).
Dolphin Discovery is a company that is characterized in respecting the ecological surroundings in all and each one of the operation and marketing processes, in addition to contributing to the environment. Being socially responsible company has been of great support and guidance to ensure that their business is aligned with the corporate mission.
This recognition has been possible thanks to the actions implemented in the areas of quality of life of the company and business ethics. The ESR is not a one time commitment; it should be endorse each year to maintain the social responsibility culture.
November 02nd, 2012