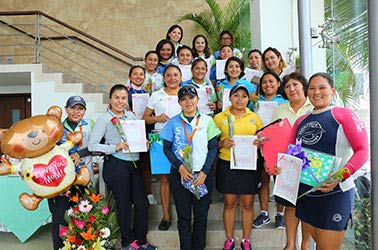 SUPER COMPANIES FOR WOMEN
It is the 1st. Exemplary of Expansion, Super Companies "For Women" 2017
The Ranking is a derivative of Super Companies 2016
Cancun, Quintana Roo on March 17, 2017 – Expansion and Top Companies published the first edition of Super Companies for Women with a Ranking of 63 companies, and the objective of highlighting those that honor gender equity, where Dolphin Discovery Group ranks 14th.
The 2016 Super Business Ranking was made up of a total of 178 certified organizations, of which the 63 that made up the new list were chosen. This was determined under the 3 following crucial criterias:
Representation of women at Directive and / or Managerial levels The average score was based on 100 to qualify the existence of 30% of directors and 40% of managers and deputy directors.
Rating of satisfaction in a questionnaire to employees Women in the management position up to the direction
Benefits related to women Practices, policies and programs of human resources, social responsibility, conditions and temporary organization of work, impartiality, compensation and benefits, organizational cohesion, satisfaction, boost productivity and leadership.
Each criteria had a weight of 33%, and an approval level of more than 70% was obtained.
"At Grupo Dolphin Discovery we develop strategies and programs based on ethical principles and values ​​based on equality, loyalty and justice that promote quality of life. We generate actions through which we encourage the development of talent and the possibilities of professional growth by providing equal opportunities for men and women, "said Guadalupe Jiménez, Human Value Sub-director of Grupo Dolphin Discovery.
About Dolphin Discovery:
For more than 20 years, Dolphin Discovery has contributed to the study and conservation of marine mammals, creating bonds of love and respect through the best interaction experience in unique habitats around the world. Millions of people have lived the Experience of a Life in the 24 parks and dolphinariums that currently make up the world of Dolphin Discovery, located in Mexico, Anguilla, Tortola, Grand Cayman, St. Kitts, the Dominican Republic, the United States, Italy and Jamaica, Where about 250 mammals live under the care of their veterinarians and marine mammal specialists. For more information please visit: www.dolphindiscovery.org
March 17th, 2017