Turtles and Dolphins In Grand Cayman
Visit the Turtle Farm after your swim with dolphins program
If you are going to swim with our dolphins and you are wondering what will happen with the rest of your day, don't worry anymore! We have arranged that for you too! Besides the incredible experience with dolphins, you will have the opportunity to enjoy one of Cayman's top activities: the Turtle Farm in Boatswain's Park. The entrance for the Turtle Farm starts from $18 and you can enjoy the rest of Boatswain's park. Seize your day at one of the Caribbean must-see places, it is worth it!
All the experiences includes
Marine Mammals presentations
Educational information
Showers
Lockers
Restrooms
Available with Extra Cost
Additional Information
For safety reasons pregnant women (5 months and up) can't participate in any of our aquatic programs. Women with less than 5 months into their pregnancy can participate in the Encounter program only if accompanied by another adult and after signing a Responsibility Form.
If you have any health or physical disability please contact our call center before you make your reservation so we can provide you full information about our services..
Remember to use biodegradable sunscreen to protect your skin, the environment and marine species.
Bring towels and cash for taxis, shopping, meals, etc.
Get the best prices to Swim with Dolphins in Dolphin Cayman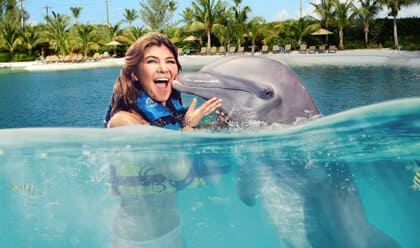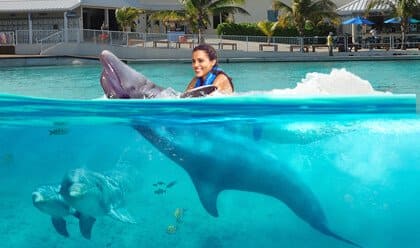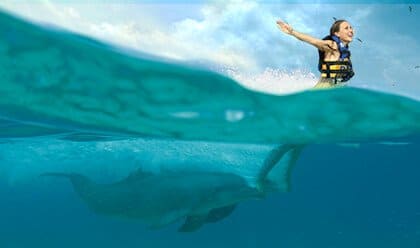 Boatswain's Beach Turtle Farm Cayman
There are a lot of things to do in Cayman Islands, but there are some activities and places that will definitely fulfill your vacations. Boatswain's Beach Adventure Park is one of them; it hosts the famous Turtle Farm, one of Grand Cayman's greatest tourist attractions known around the world for its conservation programs, public awareness and entertainment.
The Park also offers other incredible adventures like snorkeling to discover a fascinating and colorful marine life, an impressive predator tank for a close and safe encounter with sharks and eels, and an aviary of endemic bird species flying freely in their natural habitat. Discover also a pinch of Caymanian culture through local artisans, and finally immerse yourself in a miniature Eden of gorgeous butterflies and flowers called "The Nature Trail".
Where is the Turtle Farm?
The Turtle Farm is located in the West Bay District of Grand Cayman, Cayman Islands. To be more accurate is exactly in front of Dolphin Discovery dolphinarium just crossing the street, about 30 meters.
The park's address is 825 Northwest Point Road which is about 8 miles from George Town.
Park Hours
Monday – Thursday: 8:30AM to 4:30PM
Friday – Sunday: 8:30AM to 10:00PM
Park & Turtle Farm attractions

Facilities and services

Main tank with 500 turtles (100 males and 400 females).
Different turtle species.
Progressive stage (age) of turtles divided in tanks.
Touch tank for a closer experience and photos with turtles.
Lessons about turtle gender and reproduction.
Swimming pool with waterfalls and rocky atmosphere.
Nature Trail with a small cave system.
Predators Reef with sharks, groupers and eels.
Lagoon for a snorkeling experience with a viewing panel towards Predators' Reef.
Aviary with Caymanian and Caribbean birds flying freely in an enclosed setting.
Cayman Street of traditional buildings featuring distinctive Cayman designed porches, doorways, gardens and local artisans.

Tourist Guides
Beach Chairs
Swimming Pool
Changing Rooms
Education center
Snack Bar
Caymanian Living Museum
Gift Shop
Restaurants
Daily Schedule
10:30a.m.
-
Shark Talk at Predator Reed Window
. Come join us for Fun and Facts on sharks. Get the Real Story, and learn the difference between Myth and Theory.
11:00 a.m. & 1:45 p.m.
–
Predator Reef Shark Feeding (everyday except Fridays)
. Watch the hand-feeding of our nurse sharks from the Bridge. Then venture down to the viewing window for an exciting look as the Brown sharks, eels and others eat their fill.
11:30 a.m.
-
1st Hand Feeding Birds & Keeper Talks (on request) at the Caribbean Aviary
. Learn about the colorful & interesting birds of Cayman and the Caribbean.
11:30 a.m.
–
Turtle Feeding at the Breeding Pond
.
1:30 p.m.
–
Fish feeding at the Snorkel Lagoon
.
2:15 p.m.
–
2nd Hand Feeding Birds & Keeper Talks (on request) at the Caribbean Aviary
. Learn about the colorful and interesting birds of Cayman and the Caribbean.
3:30 p.m.
–
Turtle Feeding at the Breeding Pond