Garrafon Natural Park in Isla Mujeres
All of Cancun and Isla Mujeres' activities in one place!
Garrafon Park is a natural, recreational and water park, located in Punta Sur. Just 25 minutes from Cancun on the beautiful Isla Mujeres, this natural park is known worldwide for its beauty and incredible recreational activities such as snorkeling, kayaking and the beautiful cliffs to spend a day, perfect for the whole family.
In Garrafon Park you can admire landscapes, lounging in hammocks, admiring the Caribbean Sea or enjoying water activities on coral reefs watching multicolored fish, relax with a spectacular view from the infinity style pool, go cycling or fly over the beautiful caribbean sea in a circuit of 3 zip lines. Taste the delicious traditional Mexican food is a buffet as well as a refreshing style open bar, you can tour the park to the south of the island to admire one of the most beautiful cliffs of Mexico.
And for those who always want more, the park offers VIP Lounge where you will find a restaurant with buffet service with gourmet delicacies like steaks, salmon, sushi, pasta etc. Included, will the international open bar. This space is designed to give you that extra touch of luxury to your visit, with private pool panoramic style on the ground floor and exclusive jacuzzi for adults on the upper terrace you will have the full day of his vacation in the Caribbean.
*The park is open from 10:00 a.m. to 5:00 pm.
*Rates: From $ 89 USD
*Includes: Access to the park, snorkeling and kayaking, buffet lunch and open bar, towels, lockers.
*Zip lines and VIP Lounge service have an additional cost.
Dolphin Discovery Isla Mujeres Activities
189 USD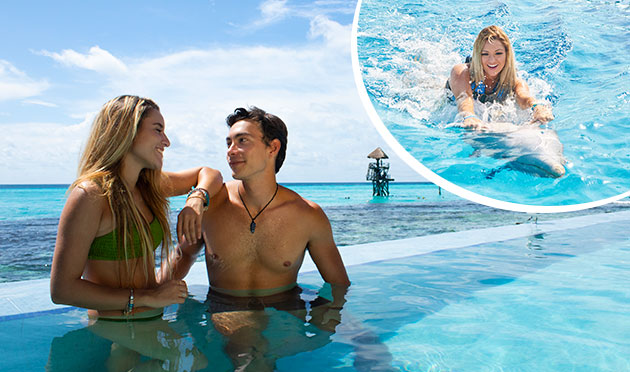 159 USD
129 USD
How to get there
Transport:
Are you ready to you live the Experience of a Lifetime? If you are in Isla Mujeres and don't have a car just take a taxi to Garrafon Park, the driver will know where to take you.
Golf carts are for rent troughout the island and are the perfect mean of transportation, you can check our map the exact location of where we are. In various points around island you will see many maps so you always know where you are and be able to get directions as to where to go. No matter where you are you'll never be more than 15 minutes away from us.
If you are coming from Cancun to visit Dolphin Discovery and Garrafon Park we have a ferry service at no cost for you in 2 schedules: 9:00 am and 11:00 am
The departure is from Marina Aquatours from Boulevard Kukulcan(Hotel Zone) at kilometer 6.5, at the time of your booking you will be confirmed the departure time for you.
Remember to arrive 40 minutes early to make your check in and receive your identification bracelet. This is very important because without it you will not be allowed to board the ferry.
Contact Info: